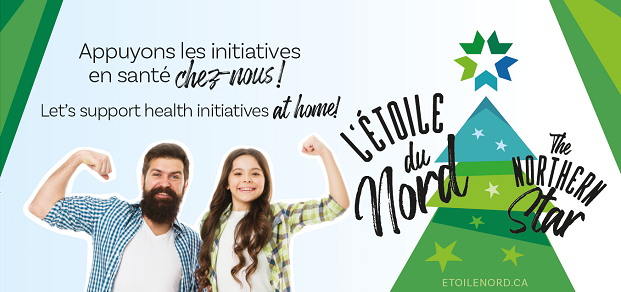 The Northern Star: … the perfect example of what we can achieve when we have a community behind us!
The Northern Star Campaign is a collaborative activity organized through a strong partnership between UNI and the 9 Northern New Brunswick Hospital Foundations. The event, which began in 2006, has raised more than $1.2 million which was invested in the acquisition of equipment to improve health care in our community!
Thousands of patients have been able to benefit from improved services in areas such as the Family Medicine Unit, Medical Imaging, Emergency, Mother and Child Program, Operating Room, Intensive Care, Oncology, to name a few.
---
Mini-trees : The people are now able to purchase mini-trees at a cost of $2, $5, $10 or $20 from the following UNI point of service and some businesses in the participating regions:
Chaleur
UNI
Jean-Coutu in Bathurst, Beresford and Petit Rocher
École Secondaire Nepisiguit (ESN)
Caraquet
Lamèque
UNI
La Société Coopérative de Lamèque (From December 20, 2021 to January 3rd, 2022)
Tracadie
Or online: Achetez en ligne maintenant!
For the mini-trees that will be purchased online, they will be placed in the cafeterias of the respective hospitals to demonstrate your support and recognition to front-line employees during this time of pandemic
*** NEW ***
For the members of UNI
---
Tree Dedication: People are invited to make a dedication to honour or pay tribute to a loved one. In exchange for a donation of $200, the name will be displayed on an ornament which will then be placed on a tree outside the hospital.
Illumination: The illumination takes place at the hospital on December 1st throughout the territory of the participating foundations. During this evening, people who have made a dedication will have the opportunity to place these dedications on the trees and afterwards, we proceed to the illumination of more than 200 trees in front of our hospitals.
Here are the mini-trees – Buy online now!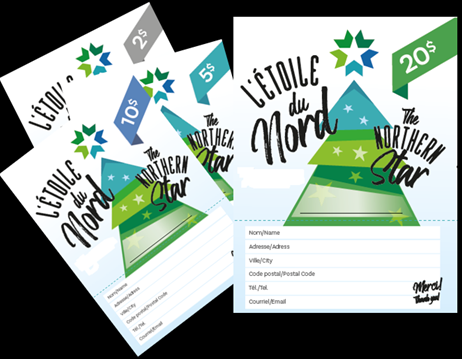 The tree, with the colors and shapes of the UNI Financial Cooperation logo, expresses a spirit of collaboration with the foundations. Decorated with stars, referring to the Foundations' projects, the sections of the tree are superimposed in an ascending movement, and attempt to demonstrate the contribution of all in reaching a goal. In addition, the fonts chosen for their liveliness are arranged to create a joyful dynamic and to challenge the readers. The whole recreates a holiday atmosphere, a convivial moment that calls for generosity and sharing. Finally, a space reserved for signatories/donors at the bottom of the tree includes them in the collective fundraising activity.
Acadie-Bathurst hospitals have needs to be met
The funds raised through the Northern Star 2021 campaign will be used to purchase several pieces of medical equipment to meet the needs of our hospitals in order to continue to make a difference in the lives of people in our region by allowing them to have access to quality health care close to home. Here is an overview of the acquisitions planned for the hospitals in the Chaleur and Acadian Peninsula regions:
Chaleur Regional Hospital Foundation (Bathurst)
Equipment that will allow certain procedures to be done in the outpatient department rather than in the operating room, thus freeing up operating rooms, a system for procedures that require difficult intubation, a high-performance incubator with a resuscitation system and phototherapy for newborns, a stretcher for transferring patients to the magnetic resonance imaging machine, cardiac monitors to increase the number of tests possible and thus reduce waiting times, and a very sophisticated automated ultrasound machine for breast ultrasound.
La Fondation Hôpital de l'Enfant-Jésus (Caraquet)
A variety of equipment that will ensure best practice patient care in all areas of professional services including, physio, occupational therapy, nutrition and speech therapy, 5 geriatric chairs that provide exceptional comfort for those requiring long term care, 2 chairs that will allow patients to relax while rocking, a stretcher for moving and preparing patients that meets recommended ergonomic requirements, renewal of Holter devices for the cardiology clinic, a universal examination table that helps make procedure and examination rooms efficient and safe, allowing for a better overall health care experience for patients, a new piece of equipment (Doplex) for the high blood pressure clinic that provides more information on the healing progress of a wound and allows for the assessment of circulation as needed.
La Fondation de l'Hôpital de Lamèque (Lamèque)
Expansion project for the Family Medicine Unit that will increase the quality of services offered to the population.
La Fondation Les Amis de l'Hôpital de Tracadie
A bariatric bed in the medicine unit, infrared coagulation system in the endoscopy clinic and renewal of Holter devices in the cardiology clinic.
Thank you for your support!
---
The nine participating foundations are:
Chaleur Regional Hospital Foundation (Bathurst);
Fondation Hôpital de l'Enfant-Jésus Inc. (Caraquet);
Foundation of the Friends of the Grand Falls General Hospital Inc. (Grand Falls);
Edmundston Regional Hospital Foundation (Edmundston);
La Fondation de l'Hôpital de Lamèque (Lamèque);
Friends of Healthcare Foundation (Campbellton);
Fondation Dr Romaric Boulay (Saint-Quentin);
The Friends of the Stella-Maris-de-Kent Foundation (Sainte-Anne-de-Kent);
Fondation Les Amis de l'Hôpital de Tracadie (Tracadie).