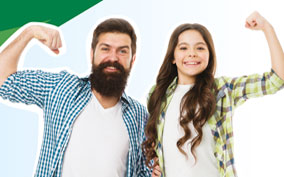 The Northern Star Campaign is a collaborative event organized through a strong partnership between UNI and the 9 Northern New Brunswick Hospital Foundations. The event, which began in 2006, has raised more than $1 million since its inception.
All the profits from the Northern Star Campaign will go to the various participating foundations so that they can meet the health care needs in their respective regions. Mini-trees are now available for purchase at a cost of $2, $5, $10 or $20 from your local UNI point of service and some businesses in the participating regions.

The nine participating foundations are:
Chaleur Regional Hospital Foundation (Bathurst);
Fondation Hôpital de l'Enfant-Jésus Inc. (Caraquet);
Foundation of the Friends of the Grand Falls General Hospital Inc. (Grand Falls);
Edmundston Regional Hospital Foundation (Edmundston);
La Fondation de l'Hôpital de Lamèque (Lamèque);
Friends of Healthcare Foundation (Campbellton);
Fondation Dr Romaric Boulay (Saint-Quentin);
The Friends of the Stella-Maris-de-Kent Foundation (Sainte-Anne-de-Kent);
Fondation Les Amis de l'Hôpital de Tracadie (Tracadie).
Contribute to the Northern Star by purchasing mini-trees at one of the following points of sale:
Chaleur:
UNI
Jean-Coutu of Bathurst, Beresford and Petit Rocher
Nepisiguit High School
Caraquet:
Lamèque:
UNI
La Société Coopérative de Lamèque
Tracadie:
Or on line. Buy now!
For the mini-trees that will be purchased online, they will be placed in the cafeterias of the respective hospitals to demonstrate your support and recognition to front-line employees during this time of pandemic.