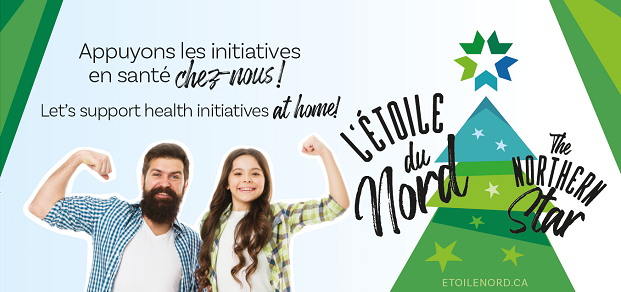 The Northern Star: … a symbol of our communities coming together to shine and support our efforts to improve care!

Since 2006, the Northern Star Campaign has been shining on many levels to help purchase equipment to improve health care in our region!  Thanks to a strong partnership between UNI Financial Cooperation and the 9 Northern New Brunswick hospital foundations, this event has already raised over $1.2 million!
In this constellation of generous gestures, thousands of patients have been able, over the years, to benefit from improved services in various sectors of our health care.
Mini-trees: Symbolizing the renewal of life, the tree represents the hope we want to convey to people who are going through a difficult time with their health.  Those interested in helping to make a difference for our care at home first can purchase these mini-trees for $2, $5, $10 and $20.
These mini-trees can be purchased online at athomefirst.ca/donation or at one of the following locations:
Chaleur
UNI
Jean-Coutu of Bathurst, Beresford and Petit Rocher
ESN High School
Caraquet
UNI
COOP Gaz Bar
Boutique O'Réconfort of the Enfant-Jésus Hospital of Caraquet
Lamèque
UNI
La Société Coopérative de Lamèque
Le P'tit Mousse
Tracadie
Or online: Buy online now!
For the mini-trees that will be purchased online, they will be placed in the respective hospital cafeterias.
For the members of UNI
---
Tree Dedication: People are invited to make a dedication to honour or pay tribute to a loved one. In exchange for a donation of $200, the name will be displayed on a ball which will then be placed on a tree located outside the hospital.
Lighting: The lighting takes place at the hospital on December 1st throughout the territory of the participating foundations. During this evening, people who have made a dedication will have the opportunity to place these dedications on the trees and afterwards, we proceed to the illumination of more than 200 trees in front of our hospitals.
Here are the mini-trees – Buy online now!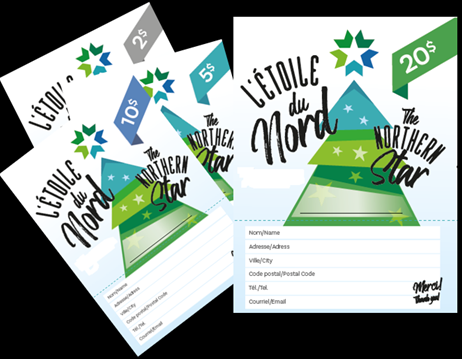 The tree, with the colors and shapes of the UNI Financial Cooperation logo, expresses a spirit of collaboration with the foundations. Decorated with stars, referring to the Foundations' projects, the sections of the tree are superimposed in an ascending movement, and attempt to demonstrate the contribution of all in reaching a goal. In addition, the fonts chosen for their liveliness are arranged to create a joyful dynamic and to challenge the readers. The whole recreates a holiday atmosphere, a convivial moment that calls for generosity and sharing. Finally, a space reserved for signatories/donors at the bottom of the tree includes them in the collective fundraising activity.
State-of-the-art equipment for our Acadie-Bathurst hospitals
The funds raised through the 2022 Northern Star campaign will be used to purchase a variety of equipment to meet the needs of our hospitals and continue to make a difference in the lives of our residents. This campaign aims to give people access to quality health care close to home and their loved ones. Here is an overview of planned acquisitions for hospitals in the Chaleur and Acadian Peninsula regions:
CHALEUR REGIONAL HOSPITAL FOUNDATION
Laboratory – REGIONAL PROJECT – Analyser ortho vision – Ortho Vision Max (X2):
Over the past year, more than 14,000 blood tests were performed manually for patients in the Chaleur and Acadian Peninsula regions. The acquisition of the Ortho Vision will allow us to accelerate these analyses through automation and to process a greater number of analyses per hour. This means that for the hospitals of the Chaleur and Acadian Peninsula regions, this equipment will allow a better accessibility and their results will be known more quickly. In addition, funds raised through the 2022 Northern Star event will be used to purchase equipment for the intensive care unit, obstetrics, medical imaging and the outpatient clinic.
FONDATION HÔPITAL DE L'ENFANT-JÉSUS
Medical Imaging: automated breast ultrasound machine
This highly sophisticated automated breast ultrasound machine will be dedicated to breast ultrasound. The addition of this device will allow us to respond to the growing demand for diagnostic breast ultrasound. This technology, in conjunction with mammography, has been shown to increase the detection of breast cancer lesions by 35.7% in breasts with dense breast tissue.
With the new technology of this equipment, the acquisition time of the exam is less than the traditional method of breast ultrasound, which means that the number of ultrasound exams processed will increase and the waiting list will decrease.
In addition, your contribution will support our hospital's front-line professionals through the acquisition of equipment in the areas of physiotherapy.
LA FONDATION DE L'HÔPITAL DE LAMÈQUE INC.
Pour la Fondation de l'Hôpital de Lamèque, ce sont des équipements l'unité de médecine par l'entremise d'un projet visant l'approche de la salle multisensorielle, les soins ambulatoires, les soins spirituels, la clinique des maladies-conditions chroniques et le service de nutrition qui feront l'objet d'achats par le biais des contributions de nos généreux donateurs qui supportent cette campagne l'Étoile du Nord.
For the Lamèque Hospital Foundation, equipment for the Medicine Unit through a project for the Multisensory Room approach, Ambulatory Care, Spiritual Care, the Chronic Disease Clinic and the Nutrition Service will be purchased through the contributions of our generous donors who are supporting this Northern Star Campaign.
FONDATION LES AMIS DE L'HÔPITAL DE TRACADIE
For the Tracadie Hospital, equipment for respiratory therapy, concentrated care, sensory medicine and the laboratory will be purchased through donations from the Northern Star.

Thank you for your support!
---
The nine participating foundations are:
Chaleur Regional Hospital Foundation (Bathurst);
Fondation Hôpital de l'Enfant-Jésus Inc. (Caraquet);
Foundation of the Friends of the Grand Falls General Hospital Inc. (Grand Falls);
Edmundston Regional Hospital Foundation (Edmundston);
La Fondation de l'Hôpital de Lamèque (Lamèque);
Friends of Healthcare Foundation (Campbellton);
Fondation Dr Romaric Boulay (Saint-Quentin);
The Friends of the Stella-Maris-de-Kent Foundation (Sainte-Anne-de-Kent);
Fondation Les Amis de l'Hôpital de Tracadie (Tracadie).