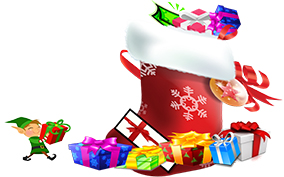 Christmas Stocking are a huge stocking containing many items generously donated by local businesses and are raffled off through ticket sales.
The Giant Christmas Stocking has become a very important activity for the success of our campaign dedicated to the fight against cancer in the region. Last year, despite the pandemic, we were able to raise over $15,000 with the sale of tickets for the Giant Christmas Stocking worth $8,800. 100% of the funds raised were donated to the Roses Radiothon held on Friday, April 30, which raised a record amount of over $239,503 in our area out of a goal of $175,000 for health care at home!
"For our hospitals, fundraising campaigns such as the Roses Radiothon, not only allows us to become leaders, but also to put forward new initiatives that would not otherwise be possible."
Dr. John LeBlanc, during his testimony of the 2021 Roses Radiothon edition
Over a number of years now, your support and that of many other generous sponsors has allowed us to offer a Giant Christmas Stocking valued at over $8,800. Through this activity, we ask the people of the Chaleur Region and Acadian Peninsula to support us by buying a $2 ticket.
Ticket sales will start November 15 at several points of sale in the Chaleur and Acadian Peninsula region and the draw for the Giant Christmas Stocking will be held on December 17, 2021